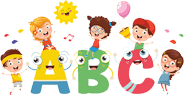 ESDP
English Skill Development Programme
The English Skill Development Programme - IEO Worksheets
English is not only the official language for 53 nations but also it is also the language of science, aviation, computers, diplomacy and tourism. It is the most commonly spoken language in the world by around 400 million people.

The understanding of the language can be enhanced by building - LSRW: Listening, Speaking, Reading and Writing skills. However, the language is augmented if we have a good vocabulary, write the correct spellings with proper usage of grammar and knowing the correct format while writing. To build in the fundamentals of the language, we need to focus on these basic skills.

This Special Programme will help you take your English Skills to the next level with a series of fun English Olympiad Worksheets. Make this time a wonderful and memorable learning experience for your kids with our revolutionary English Skill Development Program.
Keep your child busy, learning and entertained at the same time with this Program.
Why "English Skill Development Programme" ?
Fun environment to improve English naturally. Focus on spellings, vocabulary, grammar and writing skills. Students will find our curriculum challenging and enjoyable.


What more a parent wants if his child learn 100+ spellings, 100+ vocab, enhance grammar and develop writing skills in just one month.


Super flexible. If you miss the quiz some day, you can easily make up the missed material another day.
Easily downloadable English Olympiad Worksheets PDF which can be attempted any time of the day.


Very affordable. You can enroll for our

"English Skill Development Programme"

for as little as Rs. 599.
Eligibility
1st Graders to 8th Graders
The course content is different for all classes
Skills Covered
Spellings, Vocabulary, Grammar, Writing
Lessons
24 Practice Sessions in all
4 Assessment Tests
2 Challenger Rounds in the end
Price
Rs.599 + GST.
Valid Upto
31st March 2024