Chess of a Thousand Colours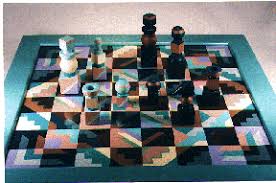 Brian Bristles was an artistic kind of a boy. He looked at everything as though it were a beautiful painting, and, in the blink of an eye, he could paint anything at all, filling it with magic and colour.
One day, Brian and his grandfather went to spend a weekend at the palace of the Marquis of Castling. The Marquis was an old friend of Brian's grandfather; and was a very famous chess player. When they arrived, Brian went into a large room and found a lovely chess set, totally hand carved, and with its own marble table which acted as the board. The chess set caught Brian's artistic eye, but he felt that the pieces were too uniform. The blacks and whites of the board amounted to a rather plain set.
So, that night, - paint box in hand - he tiptoed from his room to the chess room. There he spent the night painting each piece in the most colourful way. When the pieces were done, he painted a beautiful scene on the marble chessboard. Brian hoped to give a beautiful surprise to his grandfather and the Marquis.
However, the next morning, when the Marquis discovered that his pieces had been covered in a thousand colours, instead of being pleased, he was very angry. That afternoon he had a very important match to play. With all the pieces coloured and the board covered with painting, it would be impossible to play chess without being able to know which pieces and squares were black or white.
The boy felt very hurt. But Brian Bristles was a true artist, and he wasn't about to give up easily. A little while later he went to his grandfather and the Marquis, and asked their permission to rectify what he had done to the chess set. Knowing how ingeniously artistic the boy was, they decided to give him a chance, so Brian went off and spent hours alone with his paints.
When he was finished, shortly before the match was about to begin, he called for the two men and showed them his work.
What a beautiful chess set it was now! On one side, the board and the pieces had been decorated with dozens of stars and moons of all sizes and colours. On the other side the decorations were suns, clouds, and rainbows. It was done so well that the whole set now had an unmatchable sense of order, harmony and imagination.
The two grown-ups looked at the chess set and smiled. It was obvious that Brian Bristles would become a great artist.
[Source - Bedtime Stories]
UNSUNG HEROES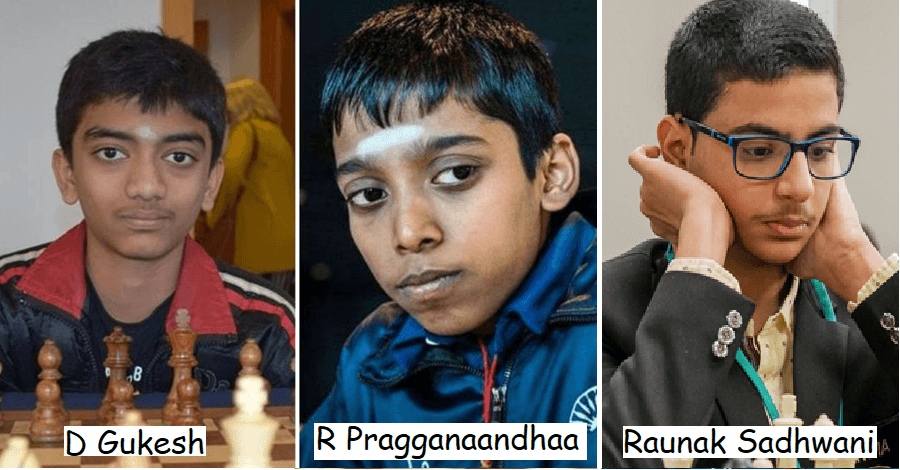 The Youngest Chess Grandmasters of India
Chess as we know originated in India many centuries ago. Chess revived in India when in 1988 India got its first Chess Grandmaster - a 19-year-old young boy called Viswanathan Anand.
Today Indian chess fraternity is thrilled with 65 Grandmasters being from India. As the game of chess keeps getting younger and younger four of the 10 youngest Grandmasters are from India - D Gukesh is the 2nd, R Praggnanandhaa is the 4th, Parimarjan Negi's 6th, and Raunak Sadhwani is the 9th youngest.
D Gukesh started to play chess at a tender age of six-and-a-half years. At the age of 12 years, 7 months, and 17 days, Indian prodigy Gukesh Dommaraju became the second youngest grandmaster in chess history in January, 2019.
R Praggnanandhaa or 'Prag' started playing chess with his elder sister Vaishali, who is a Woman Grandmaster herself. In 2018 Praggnanandhaa became the then second youngest grandmaster in chess history, at the age of 12 years, 10 months, and 13 days.
Parimarjan Negi earned the grandmaster title back in 2006 when he was just 13 years, 4 months, 22 days old, and also the second youngest grandmaster then. Later, having found new passion in science he is now a PhD student at the Massachusetts Institute of Technology.
Raunak Sadhwani has achieved the feat of becoming India's 65th Grand Master at the age of 13 years 9 months and 26 days in October 2019. A child prodigy Raunak is a shy and respectful kid who transforms into an aggressive and determined player at the chess board.
Mature beyond their years, the excitement about these young players is their consistency, hard work and quality of chess they are able to play despite their youth.