The Seasons of Life

There was a man who had four sons. He wanted his sons to learn to not judge things too quickly. So he sent them each on a quest, in turn, to go and look at a pear tree that was a great distance away.
The first son went in the winter, the second in the spring, the third in summer, and the youngest son in the fall.
When they had all gone and come back, he called them together to describe what they had seen.
The first son said that the tree was ugly, bent, and twisted.
The second son said no – it was covered with green buds and full of promise.
The third son disagreed, he said it was laden with blossoms that smelled so sweet and looked so beautiful, it was the most graceful thing he had ever seen.
The last son disagreed with all of them; he said it was ripe and drooping with fruit, full of life and fulfilment.
The man then explained to his sons that they were all right, because they had each seen but one season in the tree's life.
He told them that you cannot judge a tree, or a person, by only one season, and that the essence of who they are – and the pleasure, joy, and love that come from that life – can only be measured at the end, when all the seasons are up.
If you give up when it's winter, you will miss the promise of your spring, the beauty of your summer, fulfilment of your fall.
UNSUNG HEROS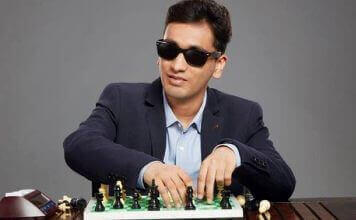 Darpan Inani
"What's not tough in life? Life will be tough but you have to be tougher in life and that's when you will win," said Inani who wishes to be an international Grandmaster someday at Mahesh Drishtiheen Sansthan In Indore.
An inspiration to all Darpan Inani is a prolific blind Indian chess player from Vadodara. He was a bronze medalist at the 2013 World Junior Championship in Belgrade. He is the youngest player to have ever won the National blind chess championships and the only Indian visually impaired chess player to have ever won international first prize at the Creon Open Chess tournament in France in August 2018. He was honoured with the Yuva Ratna award by All India Marwari Yuva Manch in April 2018 in Siliguri, West Bengal. He is also the recipient of the Navratna Award – 2018 awarded by Yuma Television and has featured in HDFC life commercial.
Darpan Inani born to father Satish Inani and mother Vimala Inani lost his vision completely at a young age of 3 years when he was affected by the Steven Johnson Syndrome. He is an aspiring Chartered Accountant. He loves to plays the tabla and the harmonium. He has also taken vocal training in Indian classical music center and is a yellow belt in Karate.
He believes that Everyone has some strength and weaknesses, so instead of focusing on limitations, one must focus on their strengths and capitalise on them.