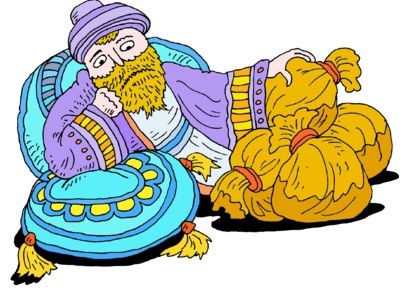 MONEY CANNOT BUY YOU PEACE AND HAPPINESS!!
Mukesh and Arpan were friends. Arpan was a poor man. He earned his living by farming. Yet he led a very relaxed and happy life.
He was never bothered about his money and to close the doors and windows of his house at night. Every night he slept peacefully in his little house.
On the other hand Mukesh was a wealthy landlord. He used to be very tense regarding his money. He was very keen to close the doors and windows of his house at night. He was always bothered that someone might break open his safes and steal away his money. He envied his friend Arpan for leading a peaceful life.
One day, Mukesh called Arpan and gave him a box full of cash saying, "Look my dear friend. I am blessed with plenty of wealth. I find you in poverty. So, take this cash and live in prosperity."
Arpan was overwhelmingly happy by the generous action of his friend. He was joyful throughout the day and when the night came, he went to the bed as usual. But, to-day, he could not sleep. He went and closed all the doors and windows of his house, yet he could not sleep. He began to keep on looking at the box of cash, which disturbed him the whole night.
Next Morning, as soon as the sun came out, Arpan went to Mukesh's house and handed over the box of cash to Mukesh saying, "Dear Friend, I am poor. But, your money took away peace from me. Please bear with me and take back your money."
So, the morale of this story is money cannot get you everything. Learn to be satisfied with what you have and you will always be happy.
UNSUNG HEROES
JADAV PAYENG - THE FOREST MAN OF INDIA
Climate change was not a major concern of environmentalists in 1979, but Jadav Payeng sacrificed all the worldly pleasures to save the environment and the eco-system.
When Payeng was 16 the flood hit Assam, destroying forest area and killing more than hundred snakes. The snakes had been washed up to the sandbar by floods and had died without tree cover. This incident shook Payeng and he decided to make Assam greener by planting trees. So He located a riverine island, on the banks of River Brahmaputra, and began to plant the saplings. Payeng visited the island and planted a few saplings every day for three decades. For where there are trees, there are birds, and where there are birds, there will be bird's eggs and fledglings - food for snakes and their ilk. Along with their native wisdom, the villagers offered the boy 50 seeds and 25 bamboo plants.
But watering the plants over such a large area was a challenge. He built a bamboo platform above each sapling and placed on it an earthen pot of water with small holes in it. The slowly dripping water provided sustenance for a week.
His forest now houses five Royal Bengal tigers, over a hundred deer, wild boar, more than a hundred vultures, several species of birds, including pelicans, three or four greater one-horned rhinoceroses, and of course, snakes. A herd of 115 elephants visits regularly for 3-4 months.
In 2012 the Jawaharlal Nehru University invited Payeng to honour him with the title "the Forest man of India" for his remarkable contribution.
Later that year, he was felicitated with a cash prize by the then President APJ Abdul Kalam in Mumbai. The same year, he was among the 900 experts who gathered at the seventh global conference of the International Forum for Sustainable Development at Evian in France. Sanctuary Asia bestowed on him the Wildlife Service Award. This year, he received the Padma Shri.