Subject :
NSO
Class :
Class 4
Refer to the given food web and select the correct option regarding it.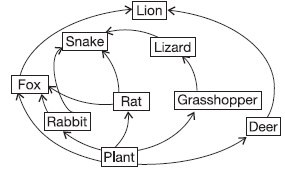 AThere are six food chains in the given food web.
BRabbit, rat, grasshopper and deer feed only on plants.
CTwo animals in this food web feed on both plants and animals.
DIf fox and deer are removed from the area where this food web is operating, then lion population will increase tremendously.