Subject :
NSO
Class :
Class 4
The given map shows some of the world's volcanoes. Which conclusion can be drawn from the map?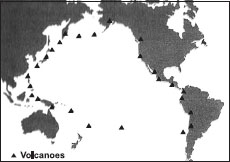 A Volcanoes occur on only one continent.
B Volcanoes are affected by climate.
C Volcanoes are concentrated in certain areas.
D Volcano belt occurs across a huge land mass on Earth.