Subject :
NSO
Class :
Class 5
Five objects a, b, c, d and e, of the same volume but different masses, are put into a tank of water as shown here.
Which of the following is most likely to be the mass of object d?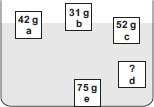 A 35 g
B 48 g
C 64 g
D 80 g
THE CORRECT ANSWER IS C BECAUSE IT MUST BE MORE THAN 52 g AND LESS THAN 75 g.