Subject :
IMO
Class :
Class 3
The given pictograph shows the number of students who were absent in a day of a particular week. Study the pictograph and answer the following questions.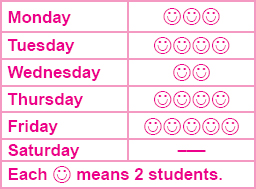 On which day no student was absent?

A Saturday
B Friday
C Monday
D Tuesday
do you see the pictograph above ?On Saturday there is a dash,so the option which contains Saturday is A .So,A is the correct option.