Subject :
NSO
Class :
Class 5
Refer to the given graph which shows changes in temperature at two places X and Y over the year and answer the following questions.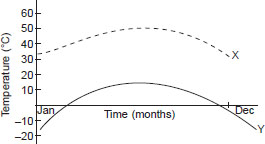 The animals found at place X should be having adaptations for _______.

A Reduced sweating
B Thick layer of fur
C Ability to easily climb up and down trees.
D Gills to breathe underwater.
because the temperature is high so they would obviously reduce sweating