Subject :
NSO
Class :
Class 5
The figures P and Q represent the movement of two types of joints in our body.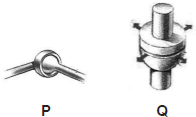 Select the incorrect statement about the joints represented.

A Joint P is found between our backbone and skull
B Joint Q is found between the bones of our wrist and ankles.
C Joint P's movement can be compared to the movement of a joystick on computer.
D All of these
how???????