Subject :
NSO
Class :
Class 6
Two bar magnets suspended by string, are separated by a piece of metal. Which of the following statements best explain the outcome shown in the diagram?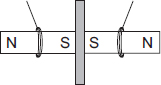 A Only like poles attract.
B The magnets have lost their magnetic forces.
C The metal exerts a magnetic field which attracts the magnets.
D The magnetic field of the magnets cannot pass through the metal.
If the magnetic field can't pass through the metal why are the magnets attached to the metal