Subject :
NSO
Class :
Class 5
The given graph shows the changes in the population of an insect found on a Jackfruit tree after four different sprayings of the same insecticide.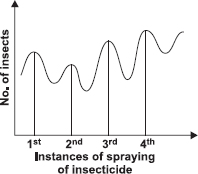 What conclusion can you draw from the graph?

A The insecticide had no effect on the insects at all.
B The insect population had become resistant to the insecticide.
C The insect population increased as the wrong type of insecticide was used.
D The insecticide helped to reduce the number of insects permanently.