Subject :
NSO
Class :
Class 7
Study the given figure and select the incorrect statement regarding P - S.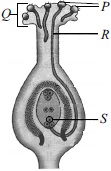 AP form inside the anther and possess a tough protective coat that prevents them from drying up.
BQ is the part of pistil that receives pollen grains from anthers.
CR carries male gametes to the ovule present in ovary.
DS fuses with male gamete and forms endosperm after fertilisation.
IT SHOULD BE B NOT D AS D IS CORRECT.