Subject :
NSO
Class :
Class 4
A factory was set up in an area which used to discharge its untreated waste down the pipe into nearby water body. After few years the factory was shut down due to some legal action. The given graph shows the changes in the populations of two organisms X and Y over time, before the setting of factory and after it was shut down. Identify X and Y and select the correct option.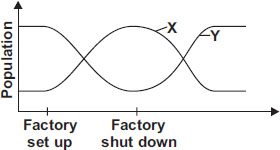 A X could be bacteria and Y could be fish.
B X could be prawn and Y and could be a submerged aquatic plant.
C X could be a water bird and Y could be algae.
D X could be algae and Y could be bacteria.