Subject :
NCO
Class :
Class 4
Which of the following areas marked by numbers 1,2,3 and 4 in the Navigation Pane will allow you to access Advanced Find, Replace and Go To features in your document in MS-Word 2010?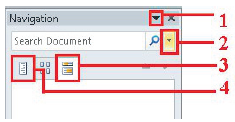 A3
B1
C4
D2
explain master answer may be this question is in NCO paper so I need answer and explanation, right?
Ans 1: (Master Answer)

Answer:D
You can open the Navigation Pane by following the given steps:
View tab-->Show Group-->Navigation Pane
By clicking on the option marked as 2, you can accesss all the features like Advanced Find, Replace and Go To.
Hence the correct answer is option (D).