Subject :
NCO
Class :
Class 3
What would happen when you enter '2' in Copies field and then click on Print button shown here?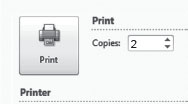 A Two sets of a document would be printed.
B The content of one page will get printed in two pages.
C Content of two pages will get printed in one page.
D The document will be sent to two different printers.