Subject :
NCO
Class :
Class 6
Given here is a snapshot of Switch Windows feature. Which of the following statements can be derived from the given snapshot?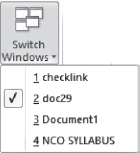 A Four word documents are currently open.
B Among the four documents, doc29 is the active document.
C Document named checklink was opened most recently.
D All of these
Ans 1:

Answer should be D, as the given snapshot is found in the view tab.It shows the list of the currently open windows and the first one showed is the most recent one.