Subject :
NSO
Class :
Class 8
The given figure shows a typical animal cell with its parts being labelled as 'a - j'. Identify the labelled parts and select the incorrect option regarding it.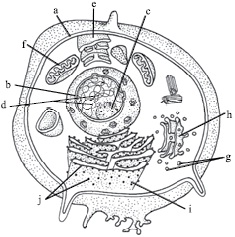 A The organelles e, h, g and i are membrane-bound organelles which function in close coordination with one another.
B 'f' organelle is responsible for the synthesis of fats inside the cells and it stores Ca2+ for release during muscle contraction.
C a and b have selective permeability i.e., they allow only selected substances to pass inwardly.
D 'j' is the site for protein synthesis. It allows hereditary message from 'd' to get translated into proteins.