Subject :
NSO
Class :
Class 3
Refer to the given flow chart and select the correct option regarding P, Q and R.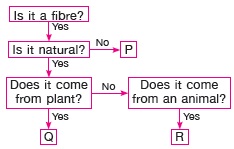 A P can be nylon but R can never be silk.
B Q can be rayon but P can never be jute.
C R can be silk and P can be polyester.
D P can be nylon or rayon and R can be jute or silk.
both B and C are correct