Subject :
NSO
Class :
Class 3
Flasks X, Y and Z in the figure show three states of matter.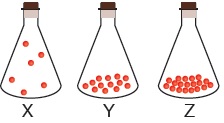 Which of the following options is INCORRECT regarding this?

AMaterial in flask X has no definite shape and volume.
BMaterial in flask Y has definite volume but not definite shape.
CMaterial in flask Z has definite shape and volume.
DNone of these
This question is not for class 3!!!!