Subject :
NSO
Class :
Class 4
The given diagram shows a model, which some students have made using scrap materials to represent various parts of human digestive system. Identify these parts and select the correct statement regarding them.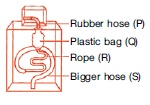 AWall of Q has hair like outgrowths which are richly supplied with blood vessels.
BIn P, absorption of water takes place.
CIn R most nutrients are absorbed into the blood along with water.
DS secretes various digestive juices and helps in complete digestion of food.
Can you tell the answer to this question