Subject :
NSO
Class :
Class 6
Refer to the given flow chart.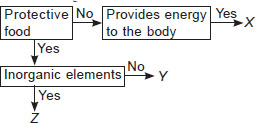 Identify X, Y and Z and select the incorrect option regarding them.

A X is formed in leaves of plants during photosynthesis.
B Z is essential for the normal functioning of thyroid gland.
C Consumption of excess of Y can lead to obesity and heart related problems.
D Z helps in formation of haemoglobin in the body.
please give solution. Did not understand .