Subject :
NSO
Class :
Class 7
Which of the following statements is incorrect for the given circuit?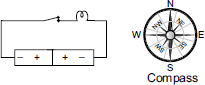 A The wire has no magnetic effect.
B When compass is kept near to the circuit, it will not show any deflection.
C The given circuit is incomplete because there is no source of electric energy.
D Due to battery in this circuit, electric wire behaves as a magnet.
please answer