Subject :
NSO
Class :
Class 7
A thermo flask is a household item that is used to keep things warm or cold for a long time. What is the use of silvered wall in thermo flask?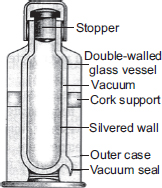 A To reduce the flow of heat by conduction.
B To increase the temperature by convection.
C To reflect the heat back to reduce radiation.
D To prevent the glass vessel from breaking.